Last week the Hampton Roads Green Building Council organized a tour of the Floyd E. Kellam High School in Virginia Beach.
Designed by HBA Architecture & Interior Design, Inc., the building is anticipated to meet receive LEED Silver certification, and will host some 2,000 students in an example of 21st century learning in practice. Featured in the Virginia AIA's Inform Magazine back in 2012, the design process featured a great deal of client collaboration and engaged high school students in the design of their learning environment, empowering the next generation of architects, engineers, and educators. The result is an impressive and engaging space with outdoor classrooms, an edible garden, integrated storm water management, greywater collection, and a host of other green features that enable teachers to use the building as a teaching tool.
Our event included a brief presentation from Mike Winner with HBA, a presentation from AP Environmental Science Teacher, Chris Freeman, on the collaborative design process with Kellam students, and finally a walking tour of the school by Mike Ross, also with HBA.
The degree to which students were incorporated into the design process for the building was impressive. HBA led the way, working with Chris, and Kellam students. Below you'll catch a few glimpses of the interior and exterior spaces from our tour:
In spaces with limited opportunities for windows, the architect used these skylight tubes with diffusers to evenly distribute natural daylight to interior spaces that otherwise would have littler or no natural light.
Green roofs were accessible from second floor classrooms, allowing bird's eye views of the student designed courtyard spaces.
The design themes and larger concepts of the courtyard work on a variety of scales, and create a lively green space between the enclosed spaces of the building. Sustainable features like the rainwater catchment system are celebrated, and the edible garden is situated immediately outside the culinary arts classroom, allowing students the opportunity to grow the very ingredients they'll be incorporating into their classroom dishes.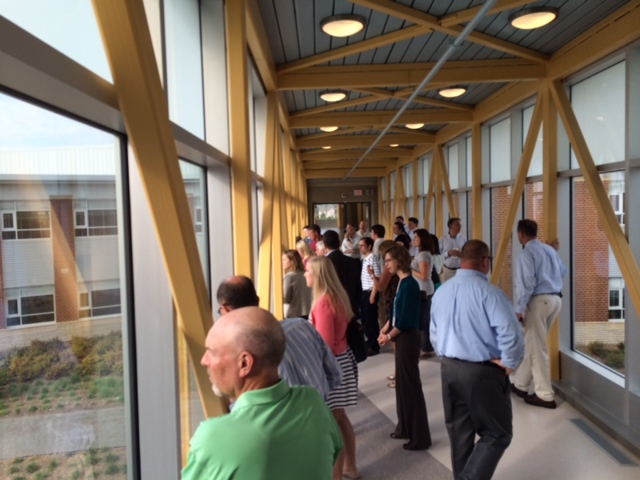 The architectural details in the space weren't lacking either, always a particular point of focus for me.
Chris caught me taking this photo, the dialog went something like this:
CF: Taking pictures of the railings eh?

RL: I have this obsession about the little construction details of these facilities, a sort of compulsion to document them…

CF: So you could say you're a little "Nuts?"
The attention to detail didn't stop at the building walls, a clever arrangement of various colors of river rock turns a utilitarian water collection point into a piece of public art.
As the tour wrapped up, I couldn't help but wonder where those students will be five and ten years down the road, and how will their involvement in the design of their own school will impact their educational and career choices down the road. Our next tour is coming up in September 2014, and if you're in the area, I highly recommend you join us, whether you're an architect, green builder, educator, or (insert your profession here), these events are a chance to connect with individuals you might not run into on a daily basis, and maybe even change the way you look at the world, if only for a couple of hours.
Quick shout out to Mike DeLaura with Sto Corp who sponsored the event and breakfast for our attendees!